Libya Business Opportunities 2022
LIBYA – A Promising Destination For Global Investors And Businessmen
Since 2003, there is freedom of establishment in Libya. Following the lifting of international sanctions Libya started welcoming foreign investment. New opportunities in Libya had made this country a preferred destination for investors and businessmen from other countries. Now there is an official bureau to facilitate foreign investments. This bureau has the authority to provide operating license for 5 years to foreign investors which can be extended to another three years. Imports are also allowed and is no longer a monopoly of the State.
This is indeed a boon for global businessmen who are interested in Libya business opportunities. The Law n°5 of Libya provides the provision for business partnerships between foreign investors and Libyans. But for the banking sector and State owned enterprises, foreign holdings are free of limits. Moreover, foreign investments are exempted from legal obligations to which Libyan companies are bound. The decree n°13 of January 9, 2005 has removed all hurdles for foreign companies to take advantage of Libya business opportunities 2022.
Libya Business Opportunities 2022
Variety Of Libya Opportunities
New opportunities in Libya in the fields of public works, construction, supply and distribution of electricity, hydrocarbons, information technology, environment, healthcare, engineering and technical studies, topography and environment are open to foreign enterprises. Interestingly, foreigners can own landed property in Libya. Libyan government has reserved the domains of wholesale and retail business, financial sector and telecommunication for foreign investors. Also, foreigners can have majority holding in the capital of local Libyan companies in the fields of agriculture, services, healthcare, telecommunication and infrastructure development. This will lead to creation of many more new opportunities in Libya.
Amazing opportunities in the field of Oil
Oil has been the most prominent industry in Libya. Almost 95% of the country's GDP is from the Oil industry. The new opportunities in Libya also include all kinds of investments and business in the Oil industry.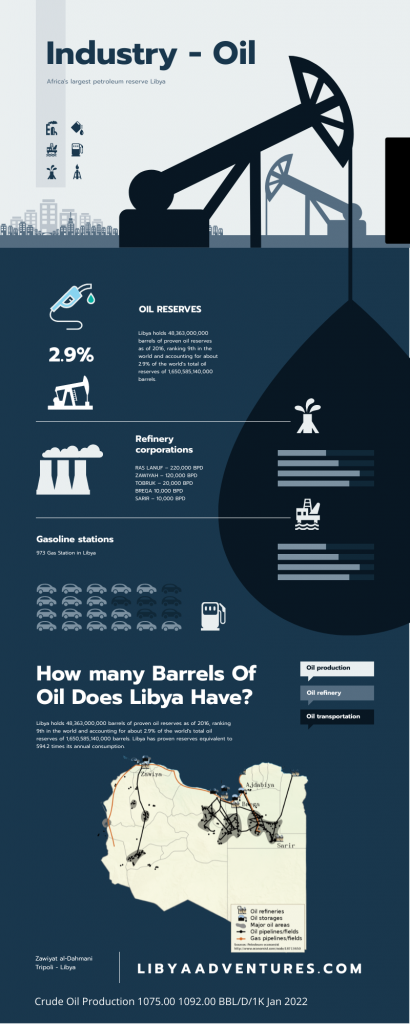 This is indeed the right time for international businesses to grab the Libya opportunities. Rebuilding the country is the first and foremost priority of the National Transition Council (NTC) which is governed by stalwarts from different fields of activity and with different political ideas. Libya is striving to resume oil production at the earliest. Increasing global demand for high-quality crude has added momentum to Libya's effort to restart oil production. Revival of petroleum industry will lead to growth of various down-stream industries and will provide fillip to creation of more new opportunities in Libya.
Recovery Of The Economy
Once the oil industry in Libya is back in full swing, the country's economy will be back on track. This creates confidence in the minds of global investors and businessmen who eye on Libya business opportunities 2022.
Analysts are confident that Libyan economy will recover though it may take time. Presently, international oil companies operate in Libya either on the basis of EPSA (Exploration and Production Sharing Agreements) or DEPSA (Development and Production Sharing Agreement).
Libya has entered into BITs (Bilateral Investment Treaties) with several countries including Germany, France, Italy, Spain, Switzerland, Austria, South Korea, Russia, India, Turkey and China. Investors from other countries are sure to find the Libya business opportunities 2022 more attractive mainly because of the implementation of Investment Law No.9 of 2010.
This law enables global investors to establish investment enterprises in the major sectors of industry except oil and gas exploration and production. Such investment enterprises are eligible for exemptions from taxes and custom duties. Investors will have no hassles to transfer the net profits and dividends and global investors can own real property in Libya.
Recovery of Libyan economy will make Libya opportunities much more profitable for investors and businessmen from other countries.
Do you need help registering
your business in Libya?
LIBYA – The Land Of Abundant Opportunities
A lot of businessmen and investors from other countries are enthusiastic about investing in Libya and doing business in Libya. Why? Mainly because there are abundant opportunities for foreign investment in Libya. The new opportunities in Libya are in a variety of fields like agriculture, information technology, petroleum and natural gas, mining, fisheries, construction, engineering, textiles, food processing, healthcare and more.
Every business sector in Libya is in urgent need of reconstruction and remodeling and consequently Libya opportunities are a lot. Various international stores, supermarkets and food chains are already thriving in Libya. Even now there is no dearth of Libya business opportunities. Investment opportunities in Libya are limitless.
Already investors from UK, France and Italy have majority holding in many Libyan companies. In the next 10 years Libya will be offering investment opportunities worth US$ 200 billion.
Foreign investment in Libya
Libyan people crave for international brands and super markets. Consequently, international businessmen can easily get a lot of new opportunities in Libya. Infra structure development is another field with immense potential for growth. Foreign investments have excellent prospects in Libya.
Libya has the largest oil reserves among all African countries and also the country has vast gas reserves. Oil is the most prominent industry here and the country is striving to revive and improve the oil industry. Revival of the oil industry will facilitate other industries also to flourish and will create more new opportunities in Libya. Another sector in Libya that attracts investment is Telecommunication.
This sector offers numerous projects to global investors who are interested in Libya business opportunities 2022 . Job opportunities are also plenty in this sector.
Libya is back to global business
Emerging Libya opportunities make Libya a potential destination for businessmen, investors and job seekers. Libya now welcomes foreign investments and business partnerships with international businessmen in almost all sectors of industry.
Libya has the highest per capita income among African countries. Revenue from Oil is the country's main source of income. However, the new economic policy of Libya assures encouragement and support to other fields also like agriculture, healthcare, environment, construction, information technology, education, banking and more. Complete dismantling of barriers to trade and investment has made Libya opportunities more attractive for global businessmen and investors. In the past decade,
The country achieved great progress in all fields. Libya's re-entry into global business and global economy helped the international enterprises to take advantage of the new opportunities in Libya. Manufacturing, finance and insurance and consumer goods industry contribute towards creation of more opportunities in Libya. Once the country was under the grip of international financial sanctions. All such sanctions are now lifted and asset freeze is also waived. This will certainly facilitate creation of more Libya business opportunities.